'Samarra'
Accent Table
This drum table's intricate brass inlay and gold leaf interior is inspired by this brass candle holder dating to the 11th century Iraq. The pattern on the candle holder is suggested by the stucco decorations from ancient Samarra, Iraq. The interior of this table also comes in a turquoise high gloss lacquer option, reminiscent of Persian lusterware.
DIMENSIONS
D 50CM, H 52CM
MATERIALS
ANTIQUE BRASS, WALNUT WOOD WITH ESPRESSO FINISH, MACASSAR EBONY IN SUNBURST PATTERN, GOLD LEAF INTERIOR. THE INTERIOR OF THIS TABLE ALSO COMES IN A TURQUOISE HIGH GLOSS LACQUER OPTION.
SaveSave
SaveSave
SaveSave
SaveSave
SaveSave
Scroll for
STORY

THE TALE OF
The Brass Candlestick
iraq, 11th century
This brass candle stick from 11th century Iraq is the third Islamic artifact to inspire my collection. Candlesticks were one of the most common types of utilitarian objects produced in the form of luxury metalware in Khorasan, Iran and Iraq. They are cast with the sides of the shoulder characteristically chamfered, while beneath the shoulder the base expands gradually outward toward the wide, splayed bottom. Decorations were usually made on the band near the base and on protruding section to neck, with repeating geometric designs notably interlacing roundels and alternate lotus-like palmettes and figures. The pattern on this candle holder is suggested by the stucco decorations from ancient Samarra, Iraq.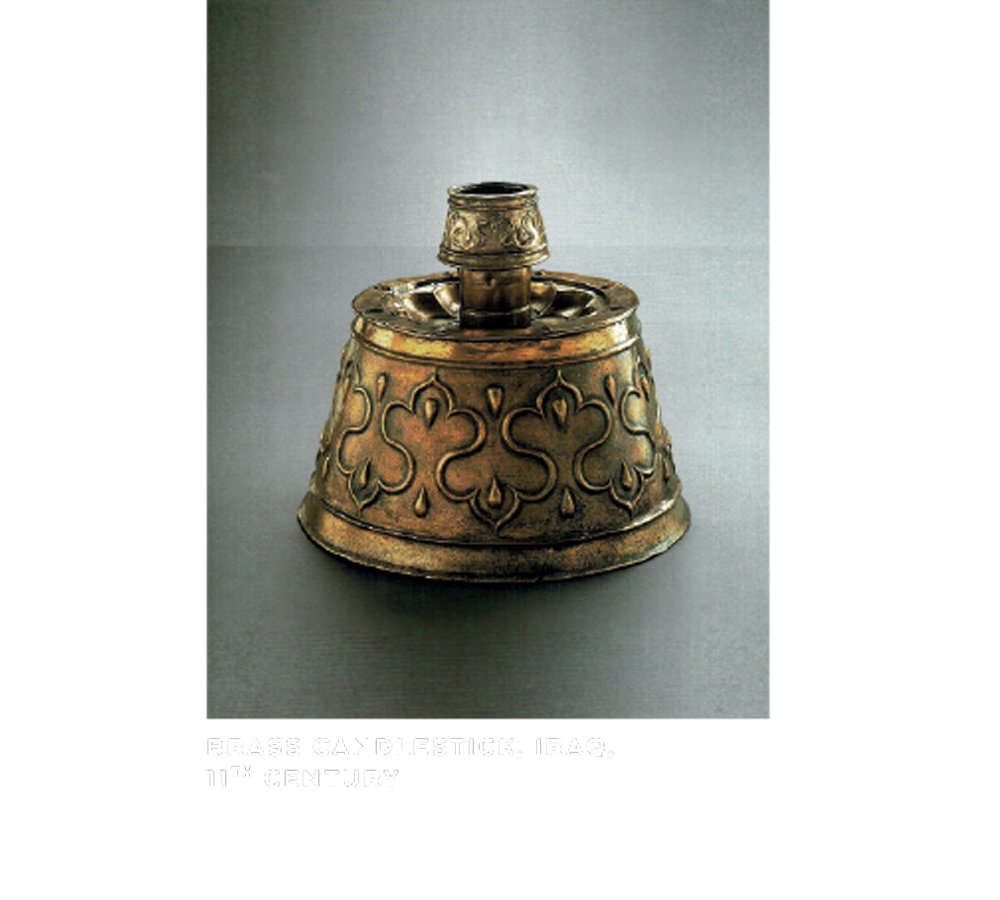 Scroll for more

THE TALE OF
The Kashan Jug
Persia, 12th - 13th century
This beautiful Turquoise Glazed Jug is the fourth artifact that inspired our collection and dates to the 12th-13th century , Persia. Persian pottery refers to the pottery works made by the artists of Persia (Iran) and its history goes back to early Neolithic Age (7th millennium BCE). Through the centuries, Persian potters have responded to the demands and changes brought by political turmoil by adopting and refining newly introduced forms and blending them into their own culture. This innovative attitude has survived through time and influenced many other cultures around the world.
It was Islamic prohibition on using vessels made of precious metal at the table, which opened a market for luxury ceramics. The Persian potters were able to fill this need with fancy glazes such as lustreware and high-quality painted decoration. Lusterware is a type of pottery or porcelain with a metallic glaze that gives the effect of iridescence. This is produced by metallic oxides in an overglaze finish, which is given a second firing at a lower temperature in a "muffle kiln", reduction kiln, which excludes oxygen.
Scroll for
REQUEST QUOTE