'Mashrabiya'
Lounge Chair
High Back
Nestled and secluded in this curved 'Mashrabiya' chair, the delicate lattice back wraps around, bathing the sitter and the surrounding area in a pattern of light and shadows. The chair's distinctive lattice back pattern is inspired by the mashrabiya at the 19th century Al-Riffai Mosque in Egypt.
DIMENSIONS
W 74CM, D 75CM, H 122CM, SH 44CM
MATERIALS
 LATTICE BACK IN WALNUT WOOD WITH ESPRESSO FINISH, ANTIQUE BRASS TRIM.
SEAT AND BACK CUSHION SHOWN IN STANDARD COLOR VELVET.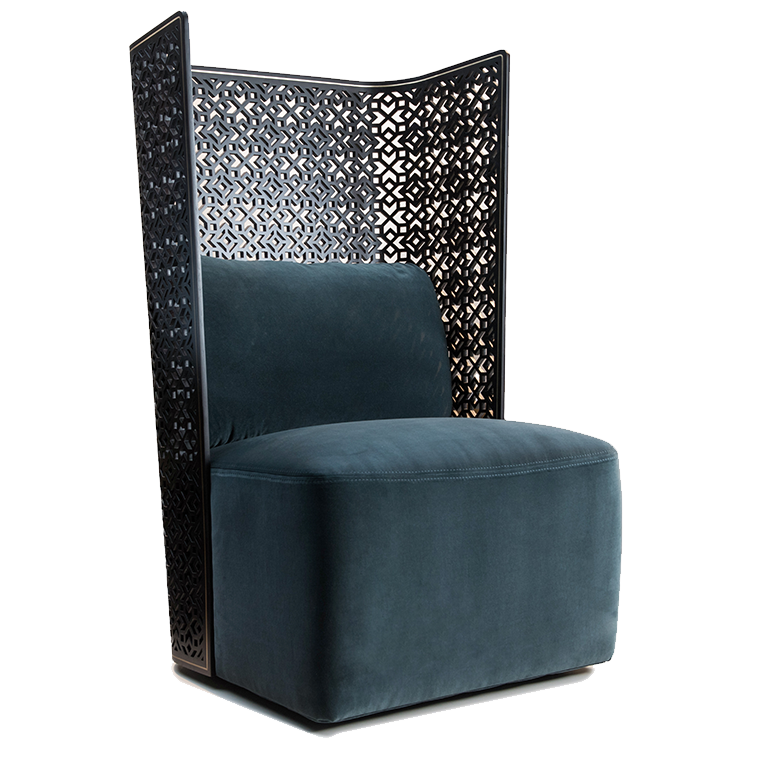 Scroll for
STORY

THE TALE OF
The Mashrabiya Window
AL-RIFFAI MOSQUE, EGYPT, 19TH CENTURY
This beautiful Mashrabiya is one of the exquisite features at the 19th century Al-Riffai Mosque. It is flanked by massive stone columns and a majestic marble façade overlooking several royal tombs. This mosque was completed over a span of 43 years from 1869 to 1912 and contains a prayer area and a mausoleum for several Egyptian kings. The mosque takes its name from its site; the Riffai Zawiya, a pilgrimage site for locals who believed that the tomb of Shaikh Ali Al-Reffai (a medieval Islamic spiritual figure) had mystical healing properties.
The origin and function of the mashrabiya comes from an Arabic root meaning the "place of drinking," which was adapted to accommodate the first function of the screen: "the place to cool the drinking water." From this beginning the mashrabiya developed into an important architectural feature that for centuries served, as window, curtain, air conditioner and refrigerator. In Egypt, mashrabiyas began, in the 14th century and flourished to become works of wonder. They were expensive and limited to palaces and homes of wealthy merchants. Later they were introduced into mosques on a much larger scale, serving the same purpose: filtering intense sunlight and providing a cool shaded interior conducive to prayer and meditation.
Scroll for
REQUEST QUOTE